Upcoming Event!
Saturday, Nov. 5 – Water Street Concert & Potluck Dinner!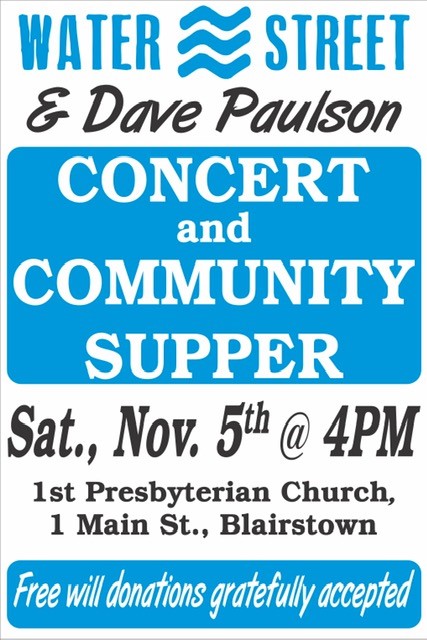 Mark your calendar and save the date to hear Water Street and our own David Paulsen in concert! This event will be held in our church sanctuary on Saturday, November 5, at 4:00 PM. A covered dish supper, immediately following the concert, will be held in Fellowship Hall.
We warmly welcome church and community members to join us for this free event, so please extend an invitation to family, neighbors, and friends. The Membership and Fellowship Ministry is pleased to sponsor this time of great music, food, and fellowship.
An attendance signup sheet is in Fellowship Hall along with a sign-up for those willing to usher, bring a dish, and for those who can help with setup, serving, or cleanup. Questions? Call or text Pete Peterson @ 908-798-7164.
About the Membership & Fellowship Ministry . . .
In 2021, we were able to resume some activities that had been suspended due to the Covid pandemic. In June, Session approved restarting Coffee Hour after the worship service. Everyone seemed to enjoy being able to socialize and enjoy refreshments. In September, the Deacons once again stepped in to help with Coffee Hour. With the help of Deacons and many people who provided baked goods we were able to continue with Coffee Hour through the rest of 2021.
On April 22, 2021 the Session enthusiastically received into membership the Confirmation Class of 2021. The Confirmands were presented to the congregation on Sunday, April 25, 2021. We welcome the energy and inspiration these young people bring to our church.
One of the responsibilities of the Membership and Fellowship Ministry is to review the membership rolls each year. This was done in May. Phone calls and hand-written Thinking of You notes were written to members we have not seen in church for a while.
In 2021, we took advantage of opportunities for the church to again participate in community events. On July 4th, we had a booth at the Blairstown Fourth Celebration. We had information about church programs and services, Children's Center information, and church cookbooks for sale. We had Christian-themed slap bracelets and mini bottles of cold water to hand out and we set up a kiddie fishing game with prizes. Many members volunteered and took turns helping out.
On November 7, we participated in Warren County Historic Tour by having a church open house. Members volunteered to give visitors tours of the Sanctuary. Al Gunther recorded organ music which played on a loop. We set up tables and chairs in Fellowship Hall and provided refreshments for free-will donations. Visitors on the tour were happy to have a place to sit and rest for a few minutes.
The Saturday after Thanksgiving, November 27, was Jingle on Main. We had a booth in front of the Outreach Center where we served hot coffee, chili and water to chilly shoppers. Thanks to the many members who made and served chili we had plenty to offer for free-will donations.
In 2022, we look forward to participating in community events. We see these as opportunities to introduce ourselves to members of the community and show that we are an active congregation. And with all those who help with these events, we have a lot of fun together. We will continue to seek ways to connect within our congregation and community.
Prayerfully submitted by,
The Membership and Fellowship Ministry