Beliefs and Behaviors of the One and Only Church on Main Street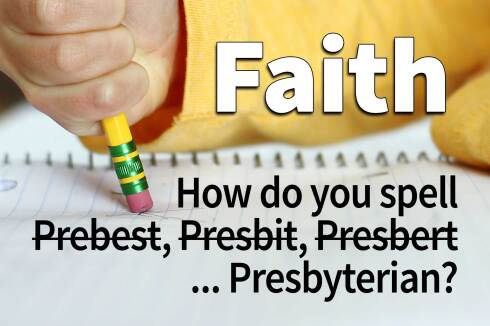 Following worship on:
May 21 & 28 and June 4 & 1
Beginning May 21, the Membership and Fellowship Ministry and Pastor David Harvey are planning a four-week learning opportunity called:  Spelling Presbyterian — Beliefs and Behaviors of the One and Only Church on Main Street. We intend to examine in a faith-forming, hope-rekindling, love-igniting, community-generating (as well as) a fun way:
1) The core principles that make Presbyterianism unique and
2) 'Why Presbyterianism matters!'
In recent discussion, a few of us discovered one can be a Presbyterian for a lengthy period of time and not have the foggiest as to what being a Presbyterian is about or how being Presbyterian makes a difference. Some find Presbyterian to be a word that is difficult to spell. Some think it means to simply sit in a pew on Sunday. Being a Presbyterian involves more than spelling and sitting.
For four Sundays we will explore four principles of Presbyterianism. They are:
1) Remembering our Presbyterian heritage as it has emerged within Christian history;
2) Discerning our Presbyterian spirituality;
3) Practicing our Presbyterian ministry; and
4) Exhibiting our Presbyterian faith through acts of compassion and service.
With radical love and radical hospitality, God graces the world through Jesus' resurrection and the gift of the Spirit to the church. Our radical love and hospitality matters!
The Shorter Catechism, found in our Book of Confessions, begins with a question that is relevant for us all as we learn to spell Presbyterian. The opening question of The Shorter Catechism is this:
Q. What is the chief end of humankind?
A. Our human chief end is to glorify God and enjoy God forever.
Let it be known the Presbyterian faith is more than white building on Main Street with a 160-foot-tall steeple. The Presbyterian faith is a people, a particular people of God.
See you in worship!